YourTown Helpline Increases Quality Counsellor Time
June 1, 2017
YourTown's mission is clear. Enable young people, especially those who are marginalised and without voice, to improve their quality of life. Among its activities, YourTown provides the Kids Helpline, a national phone counselling services, which operate 24 hours a day, 7 days a week. Calls can relate to potential suicides, life threatening situations and abuse cases, so it has an enormous duty of care. Every call is important so YourTown deployed the Cytrack CyCC omni-channel contact centre solution. This was integrated with the organisation's IP PBX.
Availability is a prime KPI for us as kids may hang up if someone is not on the line. There were times when less than 50% of calls reached a counsellor but it is now around 85%, which is fantastic. This is a major achievement, this equates to an extra 99,000 kids, or an additional 8,000 children a month are now reaching counsellors.
Julius Bergh is the IT manager at YourTown and goes on to say "In order to manage this inflow of calls and information we utilise the Cytrack solution integrated with Client Management and Contact Recording System. YourTown's ICT department developed these systems internally and they are specialised to our business. The Cytrack engineering team sat with us and listened to the challenges we have and delivered additional features for our services. For example, counsellors can select a status code that shows the nature of the call or email they are on. This is especially important if we get an emergency call that may be suicidal in nature. We need to be able to draw attention to this call as we have additional clinical specialists available to assist."
"One of the big advantages of using the Cytrack software is the way it integrates with our phone system."
Julius goes on to say "We have seen shorter queue times and better staff rostering. Before implementing Cytrack we had very limited reporting capabilities. We can now access our phone system data and integrate that with our database to analyse data in any way we want. Our team can identify trends and share data with Government and other agencies to make a difference to the lives of young people."
Allowing Kids to Communicate However They Choose
A major priority for YourTown was ensuring the kids who needed access to help could get in touch using the methods they were most comfortable using.
"The omni-channel features of Cytrack are very important to us, as we know the phone is not the only way young kids like to communicate.
It's growing ever more important that we can make counsellors available on email and web counselling (web chat). This enables us to integrate the three modalities of client contact.
The integration with our counsellor database is a powerful feature. Our counsellors do not see the caller ID so they cannot directly identify the person they are talking to, safeguarding client privacy. We do retain information on each caller and a log of the care and advice we have provided in the past is delivered to the counsellor on any subsequent call. It is important that the counsellor can see the past advice given and analysis from our clinic specialists to help guide them on the call. In emergency situations we can even identify special cases in the queue and immediately drag that caller from the queue to a specially trained counsellor.
We have worked closely with our carrier and Cytrack so that we can identify calls by area or by the Helpline services that we run on behalf of partner organisations around the country. For example, when we had the bushfires in Victoria we were able to segregate and prioritise these calls in our queue and get to them quickly."
YourTown is Answering Calls Faster
Cytrack is helping YourTown answer calls faster. "Monitoring our traffic and the staff levels is critical for us. We don't want to be caught with lengthy call queues that may mean kids hang up, but we have limited resources and need to be mindful of costs." says Julius.
"Since 12% of calls are suicide related that means an additional 900 potentially suicidal children are now reaching counsellors, which is a phenomenal improvement, considering the serious nature of the business.
"The Cytrack reporting system has been very important as it allows us to analyse our busy trends. From that we can create accurate rosters for counsellors. Availability is a prime KPI for us as kids may hang up if someone is not on the line. We have also worked with Cytrack on smarter ways to deliver our privacy statements, as kids will hang up listening to that introduction."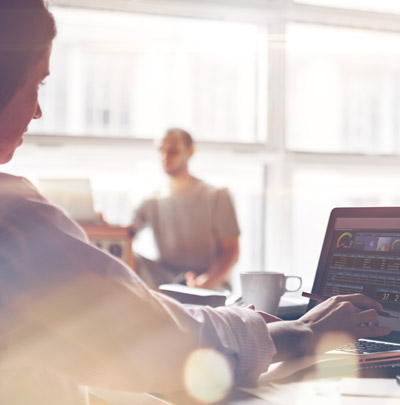 Instantaneous Reporting
Reporting has been streamlined by the adoption of Cytrack, allowing YourTown to devote more resources to its real mission and less to administration.
"We love the fact that our ICT team can access the Cytrack database directly. We have been able to mine that data and integrate to our own internal applications and deliver information to our team in many ways." says Julius. "Sometimes social service organisations may call us and require a very detailed breakdown of the call segments (without revealing individual identities). This used to take us days, now the report is instantaneous and handled immediately."
Historical reporting is improved and the system produces real-time performance indicators. "Our team are able to see the call centre data, queue status, and the nature of calls while they're occurring. This is mission critical."
YourTown have enjoyed a Top Rate Experience with Cytrack
"On top of all these benefits Cytrack introduced us to their Citizenship program. They support not for profit and special service business like ours with a range of commercial advantages.  We received special price discounts, direct access to their high level engineering team and our own priority support stream."
"The whole experience has been top rate"
"With all of this, the bottom line is our business is better managed and organised more efficiently. Allowing us to assist more young people."
Cytrack's CEO Nick Milan said "I'm delighted to hear about the benefits that YourTown is realising from its investment in Cytrack solutions. Seeing the results that technology can bring about in real human stories is really important. Kids Helpline makes a truly life-changing difference to young people around our country.
---