Why call recording is essential for every business
September 18, 2018
Business today faces unprecedented levels of regulation, compliance and scrutiny, which is why a quality call and screen recording solution is a critical component for organisations of any size. Call recording should be integrated into every contact centre solution as part of a coordinated methodology to help deliver an exceptional customer experience and ensure the business has access to all the facts on every interaction.
---
A comprehensive recording solution isn't too much to ask for
Many businesses use third-party solutions which are not integrated natively into their contact centre platform. This creates it's own challenges through the lack of native unification, the need for users to learn multiple interfaces and the high total cost of ownership.
Natively integrated recording solutions such as CyRecord offer a centralised business intelligence solution. By linking call and screen recording directly to reporting and desktop call controls, finding and playing back the relevant recordings is quick and easy. By offering a fully integrated package of recording, reporting and call control via our modular solution, Cytrack offers a comprehensive contact centre solution to suite every business, regardless of size or complexity.
Integrating call recording and playback into one unified contact centre solution offers more intuitive, centralised business intelligence
---
Get the complete picture with screen recording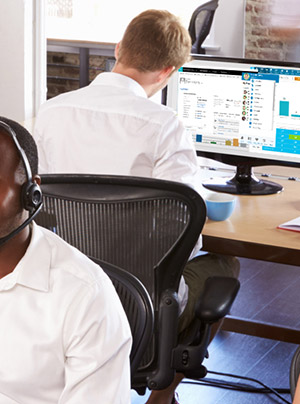 Recording calls is only part of the story when striving for complete customer satisfaction. CyRecord optionally captures what happens on the agent's screen, allowing a much more complete picture of the customer interaction.
For example :
Let's say that whilst on a sales call, a customer is given the wrong price for a product. The manager listens to the call and clearly hears the agent give the wrong price, therefore assuming that the agent was at fault.
But things aren't always what they seem - if we introduce screen recording into our example, this time the manager listens to the call and also sees the agent's screen interactions. They can see the agent click on the price list and read out the wrong price because it was incorrect on the price list displayed on their screen.
Having the extra dimension that screen recording offers, enabled the manager to track the real source of the problem, therefore rectifying it and preventing the same issue reoccurring. It also ensured that the agent wasn't wrongly blamed and saved everyone's time with no need for subsequent meetings to try and find out what happened.
Knowledge really is power, and a quality voice and interaction recording solution is the key to ensuring you have all the facts.
Whilst the above scenario is an overly simplified example, it illustrates the power of having a complete, holistic view of the customer interaction. When issues become more complicated, such as with the ever increasing levels of personal data and privacy compliance regulations, the ability to have accurate and indisputable facts is essential.
---
Unprecedented business intelligence for smarter business
CyRecord is our powerful and flexible call recording Solution for ISDN, Analogue and IP lines and extensions. Contact us today to request your free demonstration and see for yourself why CyRecord is an integral part of Cytrack's award winning customer experience and contact centre solution.
Meet legislation and business requirements
Compliance with GDPR, PCI DSS, MFIID and more
Improve service delivery by recording the facts
Compatible with all leading PBX brands.
SIP (Session Internet Protocol) trunks and extensions
ISDN 2 (Basic Rate) ISDN 30 (Primary Rate) & Analogue
Search & playback via CyReport web client
Call history reports and the voice recordings in one interface
Files compressed and encrypted as standard
Audit reports for compliance requirements and security
Calls can be saved and exported or emailed as MP3s
Create powerful business process solutions