In an always-connected world, customer expectations have never been higher. Revolutionise customer relationships and experiences through Collaboration, Omnichannel and AI with Cytrack's CyCX Connect Contact Centre, Engage Voice and Engage Digital solutions.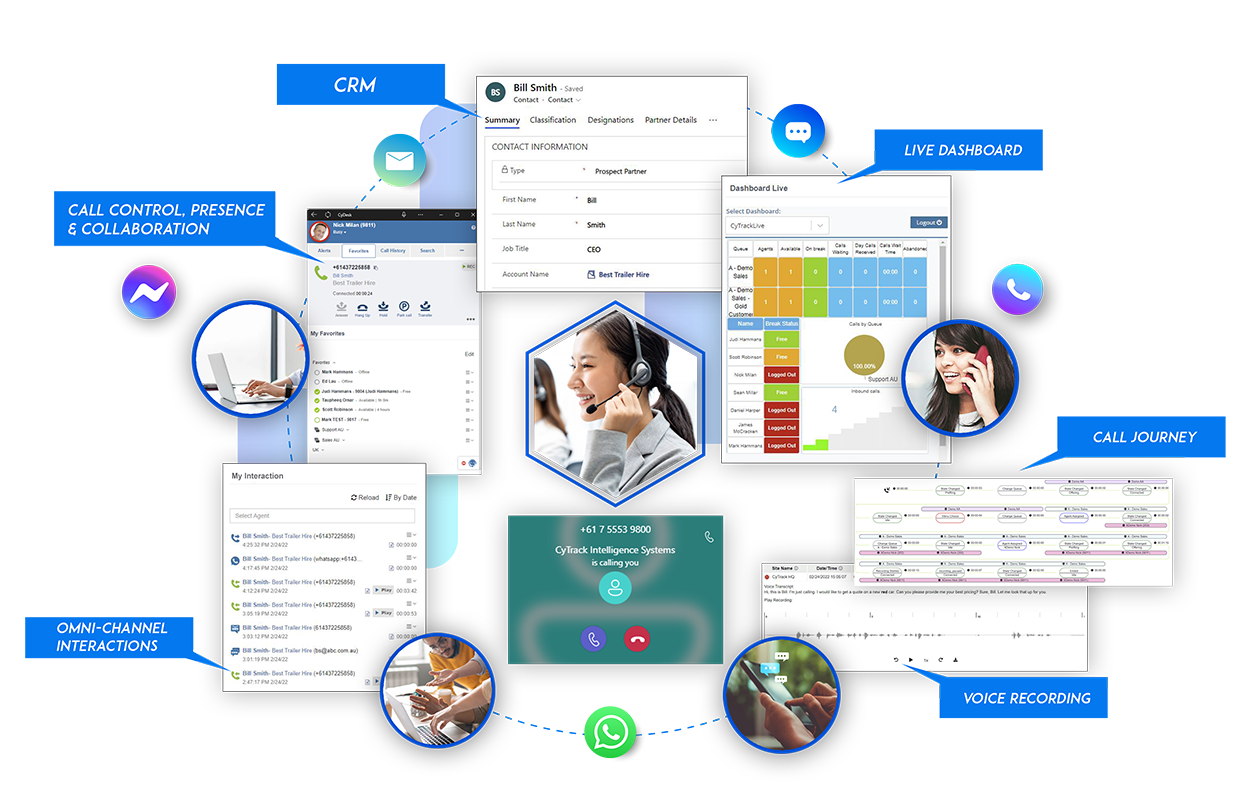 Simplify your communications with Cytrack + Avaya cloud communications solutions
For many businesses, the proliferation of communication channels can cause more problems than it solves. Huge volumes of carrier voice calls, instant messages, group chats, social media, video conferences and email can make it harder to keep track of – let alone improve – employee and customer engagement. In fact, nine out of 10 employees agree that disjointed communication technologies negatively impact their workflow, and 74 per cent report having to toggle between apps to solve simple customer issues (These figures are taken from CITE Research and RingCentral's survey of 2,000 customer-facing knowledge workers and customer support employees in Australia, the US and the UK).
By integrating all your communication channels with Cytrack and Avaya you eliminate the complexity in your business.
For example Avaya's Cloud Office Unified Communications as a Service (UCaaS) solution includes a private branch exchange (PBX) system and communications applications on an open, globally scalable cloud platform.
Cytrack + Avaya unifies your voice, team messaging, collaboration, video conferencing, online meetings, omnichannel customer engagements and contact centre functions. Cytrack + Avaya transforms both your customer experience and employee engagement. Customers can interact with the organisation when, where and how they want to. And by unifying all customer facing and internal channels on one platform, Cytrack + Avaya also simplify the employee experience, greatly improving your team's productivity and engagement. Your employees will have all the tools they need to provide an outstanding customer experience.
The solution
One intuitive platform. Endless possibilities. Drive team productivity with voice, video and team messaging software. Empower your workforce with a cloud communications solution they can access anywhere in the world. Deliver tailored customer experiences on any channel with the Cytrack Collaborative Omnichannel Contact Centre, Engage Voice and Engage Digital solutions. Activate offices and reach out to customers and team members on the other side of the world in seconds. Do this and more, at any time, anywhere, on any device. Best of all, the whole suite takes weeks, not months, to set up. All you need is an internet connection – we'll do the rest.
Simplify business operations
Combining Avaya with Cytrack transforms the platform so you can integrate the software your business already relies on into your communications system. Integrate more than 100 leading business apps – as well as your company's existing in-house solutions – straight out of the box. Or create customised integrations and apps to suit your business's unique needs.
Cytrack is compatible with Salesforce, Microsoft CRM, Freshworks, Zoho CRM, Netsuite, GoldMine, Pipedrive, simPRO, Vertafore, Xplan, MYOB – along with many other leading apps.
Click here for full details of all our integrations and if you don't see what you are after please email support@cytrack.io